We understand that you will have many questions, and that choosing a care home for you or a loved one can be a difficult task. To make things a little easier, we have compiled a list of questions we are frequently asked. Of course, we can't cover off everything, so if there's something you need help with, please don't hesitate to get in touch and we'll be here to answer any questions you have.
---
Are all rooms individually priced?
Yes they are. All of our rooms are individually priced depending on the size, view, and whether they have an en-suite. Please get in touch for prices and we'll be more than happy to discuss.
---
How many rooms does the home have?
The home has 23 bedrooms, 1 of which is a double room that can be occupied by a couple.
---
Will my relative be here for good, even if their needs change?
Every individual is regularly assessed depending on their needs. This will include involvement from GPs, health professionals and their family. If their needs change or our care home is no longer able to meet their needs, it may be that a different category of Care is required. But we will work with you every step of the way and make any decision together.
---
Can we take our relative out for the day / weekend?
Absolutely. We have a superb activity schedule in our home, and we're always looking to get our residents out and about, with days trips to places like Weston Super-Mare to enjoy the seaside. Please see a variety of 'themed days', activities and days out provided by the Care Team in the 'News & Events' section of the website. We always actively encourage friends and relatives to get involved too, so if they'd like to make their own plans, we'd always welcome and support them.
---
Can they bring in their own furniture?
Yes. We welcome and encourage our residents to make their rooms feel as familiar and as comfortable as possible. We've found that simple things, such as residents bringing their own furniture and pictures to hang on the walls, go a long way to helping with this.
---
When can we take a look around?
Visits are welcome at any time. You can phone or email to book ahead of a visit, or simply pop in at any time that suits you. We would however, ask for a little bit of patience if you drop in during busy times, such as meal times etc. If you would like to talk to the Home Manager, then we would suggest you call ahead in advance, to make sure they'll be around for your visit.
---
How does the home stay in touch with relatives who cannot visit?
The home sends a bi-monthly newsletter called the 'Bernash Banter' and also gets together with the relatives twice a year to discuss the home's plans. We also have a private Facebook page that relatives can access and view all the exciting events the residents have taken part in, as well new events planned. And of course you can always call us when you like.
---
Can we bring the dog in when we visit?
It's scientifically proven that animals can help reduce stress, lower blood pressure, increase social interaction and physical activity amongst the elderly. Our residents benefit from our continued policy to allow family and friends to visit with their dogs.
---
How independent can I be?
When you choose to live at Bernash, this will be your home, and you can be as independent as it is reasonably safe to do so. You can decide where to have your meals, when to have your bath etc, and you are free to explore the home and gardens, and we encourage you to stay as independent and active as possible. We will support you in keeping up any activities or hobbies that you enjoy at the moment or even to start new hobbies. Safe in the knowledge that 24-hour support is available, you can relax and enjoy your years at Bernash.
---
I tend to wander and get myself lost – is Bernash safe?
Bernash is a very safe home and you can freely wander the home and the gardens. To protect residents who easily get lost, it is almost impossible to leave the home by accident and get lost outside the home, though of course you can leave the home when accompanied with a relative, friend or one of our carers.
---
Who will pay for what in Bernash Care Home?
Depending on your financial situation, your local authority may pay for some of the costs of your care. This depends on a means test of your savings and assets, including any income from your pension or benefits, and the value of your home. In England if you have more than £23,250 you have to fully fund your care until your capital drops below this amount.
---
Can I try a short stay in Bernash before I decide to give up my own home?
We fully understand how difficult it can be to take the decision to give up your own home. We can plan an appropriate time for you to stay, based on the availability of a vacant room and the length of time you would like to stay. This will be charged at our current care rate and provides you with an ideal opportunity to see what it is like to live in Bernash.
---
Can I continue with hobbies and activities I enjoy when I come to stay at Bernash?
Yes, we have an Activities Co-ordinator whose main role is to organise daily activities within the home and local community. When you come to live with us, we will spend time getting to know how you would like us to help you continue your current lifestyle and to live the life you want.
---
What qualifications does your Care Team have?
All of the members of our Care Team are given the training and support needed to help them provide the highest standards of care. Majority of our care staff are regularly working towards further recognised care qualifications ie. NVQ's. We also have mandatory internal training, which is ongoing.
---
Do you provide hairdressing and chiropody?
Yes. A little pampering makes everyone feel good, which is why our hairdresser is on site every week. She offers a full range of services including cutting, blow-dry, sets and perms. Hairdressing services are offered for both ladies and gentlemen.
Chiropody can be organised, they visit every 6 weeks but also you can keep your private chiropodist if you prefer. All you have to do is let the office know when they will be visiting.
Residents would need their own funds which are kept in the safe for hairdressing and chiropody services.
---
Yes and we currently hold a score of 10/10 from independent reviews from relatives.
We have also been awarded the "Top 20 Recommended Care Home in South West England 2018 & 2019". Please click on the following links to see our profile.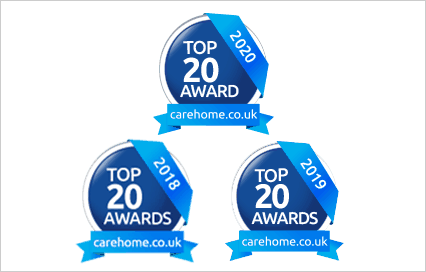 ---
Can I view your inspection reports?
Our inspection report is available to view on the Care Quality Commission's website http://www.cqc.org.uk/
Get in touch
Our team we will be more than happy to answer any questions you have…