Our 23 luxurious, well-equipped rooms, that offer privacy and independence. We offer 24-hour room service, with tea and coffee making facilities available on request. Most rooms are also equipped with TV and telephone points, and a lift provides easy access to all first-floor suites. The majority of our bedrooms have an en-suite and the rooms are both spacious and comfortable. We encourage our residents to decorate their rooms as they wish to and welcome any belongings which will help in making their room feel like home. All the bedrooms and en-suites have a nurse call point which offers residents rapid access to a carer 24 hours a day.
There are two separate lounges in which to socialise and enjoy the company of fellow residents. One of which is a quiet lounge so there's plenty of opportunity for private moments by yourself or with your loved ones too.
It is not just the indoors we have to offer, our residents are free to explore our well maintained gardens or just enjoy some fresh air in our patio area, all the while enjoying a cup of tea. If the residents would prefer some time out of the sun, then there is also a large summerhouse that the residents can occupy and also enjoy activities in.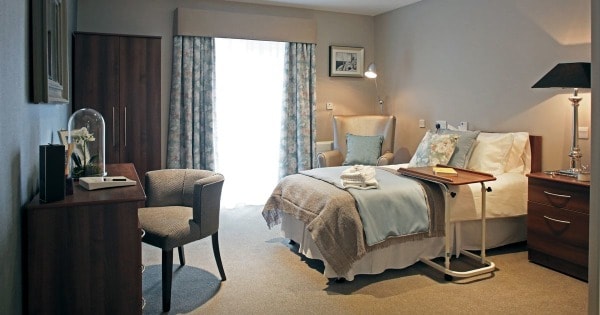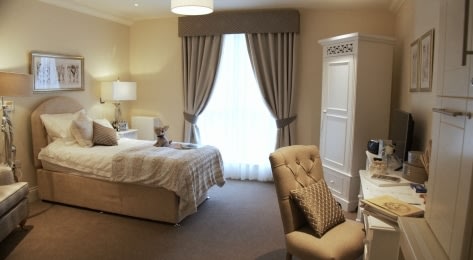 We have thought long and hard about what our residents like to eat and how they like meals to be served. We found that food and the social aspect surrounding it is something that most people hold dear; it evokes memories of different eras in one's life, various people, and celebration. We think that in itself is something worth savouring.
We have created a lovely welcoming dining area for meals and snacks and are very proud of our home cooking, offering a varied menu made with locally-sourced produce. All our meat is purchased from a local butcher, WJ Harris Ltd and cooked on-site by our dedicated team of chefs. Our chefs ensure a healthy variety of food and seasonality is reflected in our varied menus. Not only do our chefs focus on providing nutritious, balanced diets, but they also pay particular attention to specialist needs – whether health related (such as diabetes) or religious.
The residents are given gorgeous cakes every day with their afternoon tea, ranging from lemon drizzle to raspberry and coconut cake and we find that the residents relish this afternoon treat. Of course, we also like to offer healthy options such as fresh fruit if they so wish.
We have been fortunate enough due to the diligence of our catering team to be awarded a 5 Star Rating by the Local Authority for Food and Hygiene.
We also recognise the importance of recreational activities and we invest a lot of time making sure our residents enjoy every day. With dedicated co-ordinators, we have a full programme of events on a daily basis, many of which actively encourage participation from family, friends and the local community. A real social affair. We are focused on promoting independence, agility and choice, through person centred planning. We strive to ensure all personal needs are met and social activities of choice are enjoyed, including trips out with staff.
The most important skill that all our staff have is the ability to communicate. All of our staff are encouraged to pay careful attention to what our residents are communicating either verbally or non-verbally throughout their time with us. The residents lead the way, they tell us what they want us to know. Listening and understanding a resident with Dementia is a key part of treating that individual with the dignity they deserve.
So you may see our residents pushing the tea trolleys, laying the tables, hanging out the clothes, planting flowers, or sweeping up leaves. This may not be the expected activities of a Care Home ie. a daily sing song (although these do also happen), however this is an activity that they have chosen and made their own. You will find that they are often absorbed in deep concentration or animated with pleasure; that they can lose themselves in it; that they can express themselves through it, and initiate engagement of their own accord. This is what an activity truly means at Bernash Care Home.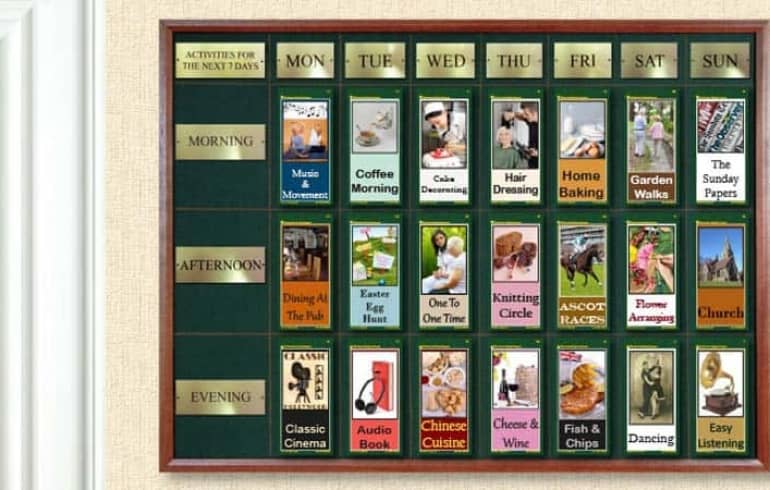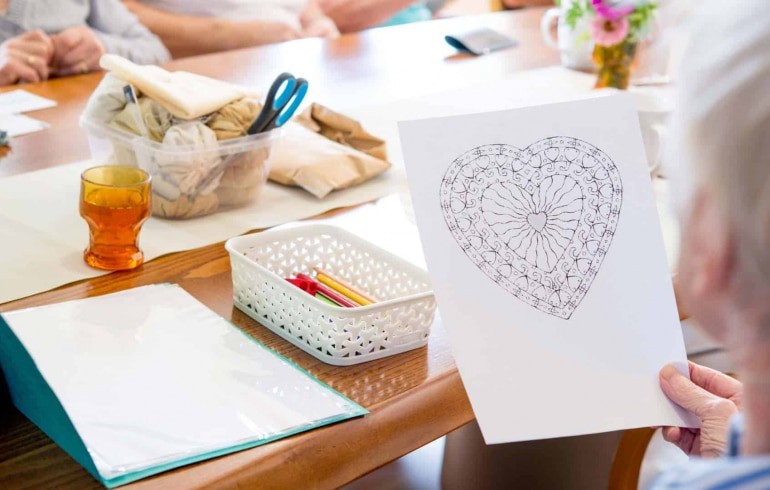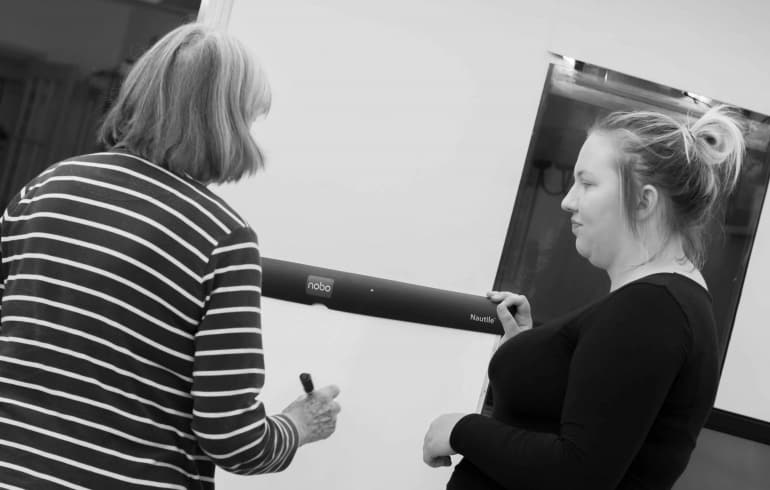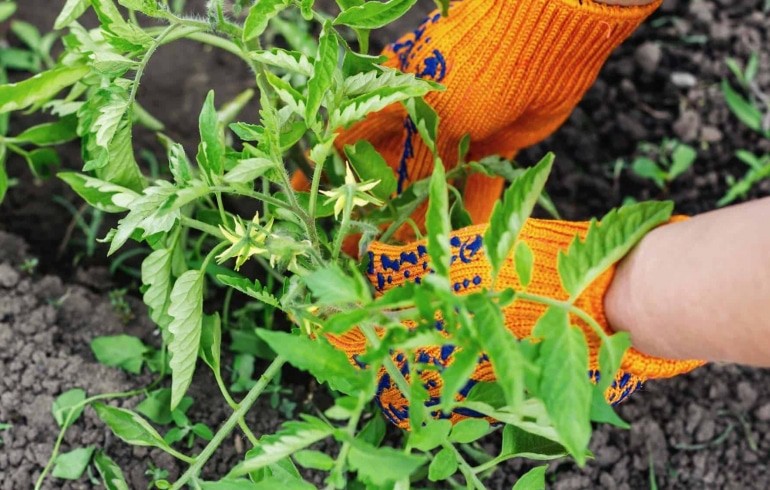 Tovertafel – The Magic Table
We at Bernash are very proud to be the first and only care home in Bristol to have purchased the Tovertafel Original (The Magic Table). The Tovertafel Original is a fun care innovation that connects older people in the late stage of their dementia journey with each other and with their surroundings, all the while stimulating movement. The beautiful games were developed specifically for the target group and can be played both independently and under supervision. It was developed for and with people in the moderate to severe stages of dementia. The interactive games break through apathy by stimulating both physical and cognitive activity and encouraging social interaction. Moreover, the Tovertafel creates treasured moments with family members and carers. These games are all about enjoyment and wonder.
The Tovertafel is a little box that has been mounted to the ceiling in the dining room. Inside the box is a high-quality projector, infrared sensors, speaker, and processor that work together to project the games onto the table. Because the colourful objects respond to hand and arm movements, residents get to play with the light itself. The Tovertafel stimulates physical activity so that residents move more. Older people can play with the Tovertafel independently and it lets people on the dementia journey break through apathy. Everyone can take part at their own level which promotes valued interactions with other residents, relatives, and care staff.
Services
A large range of services are available at Bernash Care Home for your comfort and safety. The premises are secure and host a newly fitted fire alarm system. A dedicated housekeeping service ensures the building is clean and tidy at all times with on-site laundry and drying facilities. In addition, a range of activities are offered to provide well needed exercise and entertainment. Residents can benefit from:
Personalised Care: Our person-centred care planning means your specific needs can be identified and a tailor made plan can be put in place to help meet these needs.
Activities: With a range of activities on offer and a dedicated activities co-ordinator with a passion for physical fitness, you can be assured of an enjoyable mix of vitality and entertainment at Bernash Care Home.
Hairdresser: A mobile hairdresser visits in person and attends to whatever hairstyle or trim you require, in the comfort and safety of the home.
Chiropody: Regular access to our chiropodist who will visit direct to the home for your convenience.
Gardening: Our green-fingered residents can enjoy watching their very own plants grow, after they've worked hard to prepare the soil and sow the seeds.
Puzzles, Arts & Crafts: We have a wide collection of puzzles as well as creative arts and crafts sessions for residents to express themselves and let their imaginations take over.
Shopping: From trips to the local village shop to sight-seeing further away, we engage our residents in activities beyond the boundary of their homes.
Get in touch
Our team we will be more than happy to answer any questions you have…